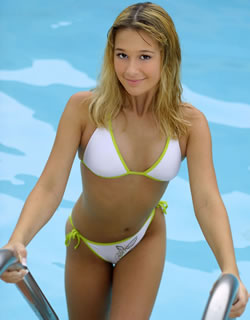 These days children grow up so fast, but these children seem to be growing up a little too fast. Selling their souls, and the images of their bodies to strangers on the internet, no biggy for these kids, or even their parents who seem to endorse this exploitation of their children.
In front of a camera, Bobbi Jo is a stunning Alabama beauty with incredible sex appeal. She has the right look, innocence with a touch of naughtiness beckoning the viewer, a shapely body that looks good in a pair of tight jeans and a bare midriff top and even better in a bikini.
All woman – except for one fact.
Bobbi Jo is 13.
More about the story: here
:: b0g ::