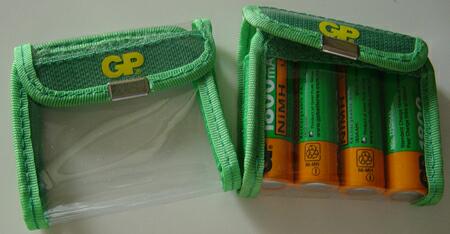 With my GP batteries I got a nice simple bag delivered a few months ago.
The bag is protecting the batteries and keeping them together of course :-)
As I bought 4 extra batteries I thought such little bag was delivered with it.
Nope..
A few weeks ago I wrote an online message to GP (at their site) and waited for their response. After 3 weeks: a nice letter explaining that such 'bags' were used as 'special action gift / promotion item', but they wrote me that they had some 'spares' .. On of them they send to me.
It's small, but easy to use! Thanks GP ..
You see: it's easy to get a weblog entry for getting free advertisement ;-)