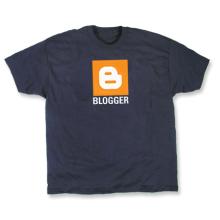 Nice T-shirt not? So I tried to order it through the googlestore as it was advertised at blogger ONLY $9
So I ordered 2 XL men's T-shirts and 1 Medium Sized Woman's.
2 Men's Blogger T-shirt – $10.50 – $21.00 size: XX-Large
1 Women's Blogger T-Shirt – $11.25 – $11.25 size: Medium
SUBTOTAL $32.25
3 T-shirts for this amount of money is payable.
But today I was informed about the 'shippingscost for international orders'
Yup.. AMR is living in The Netherlands .. You know: wooden shoes, windmills .. & Hans Brinker
Thank you for placing this Google Store order………….
"In addition, we ship international orders via free domicile and any duties and taxes incurred for your international shipment are also calculated in the
shipping charge shown below, as well as a $25 processing fee for international orders.
Therefore, the total shipping charge for this order is $103.90 to ship via UPS Int'l Standard shipping".
Processing fee: $25 that's 78.90 … from the actual price 32.25 they add more than 240% for duties & taxes… Yeah Right ..
Thank you blogger for offering me a T-shirt JUST $9
order cancelled.