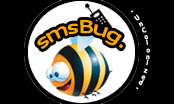 Do you remember 'mtnsms.com' ? in the year 2000/2001 it was the BIG hit on the Internet: The hype was on and you were allowed to send unlimited SMS messages for FREE!.
In 2001 I travelled around the world and Lilian and I communicated through mtnsms.com sending an awful lot sms messages (between 1000 and 2000) during a 3 months time window.
I even remembered that Matthijs made an very nice application to use all services together login in and send sms from that application: mtnsms, icq, genie etc. etc.
Than providers shut down the access from MTNSMS and the hype was over.
Right now still no Dutch Providers do allow SMS messages (No coverage) from MTNSMS (now SMSBUG)
SMS Bug: send cheap SMS messages through GPRS .. great concept!
It is sucking big time that little datatransfer is costing that amount of money. GPRS and UMTS will not work and will not be a hype with this kind of rates.