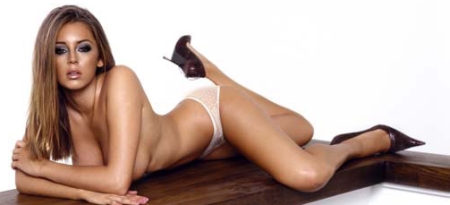 The Sun is reporting about their Page3 Girl ..
Keeley Hazel is pissed about the unemployed ex-lover Lloyd Miller who released her sex tape. The Page 3 model says the tape is made while on vacation in Tenerife.
"We had taken a video camera on holiday with us to Tenerife last summer. We were both feeling relaxed after a couple of drinks and it just happened.
The Sun wrote: "I was in bed on Sunday morning when Page 3 girl Nicola T rang. She informed me stills from a personal video I had made with an ex-boyfriend were in a downmarket newspaper. I got straight up and went out and bought it. I just burst into tears when I saw the images staring back at me."
Keeley says the 20-year old man in the video is a short-term love she a year ago. And she's pissed at him now:
"We had been in an on-off relationship for a year and at the time, I really loved this guy and trusted him. Never in my wildest dreams did I think he would betray me in this way. Now I don't know who I can trust."
Lovely Keeley is discussing her future actions with her lawyers. Keeley just wants the video removed from all internet sites, but if other stars are a guide, that is hardly going to happen.
The British model, who rose to fame by going topless, says the reason she never did Playboy was because she didn't want to expose everything:
I have turned down offers to do Playboy covers because there were certain things I simply didn't want others to see. Now I feel I have no dignity left. In future I know I will have to be more careful who I fall in love with."